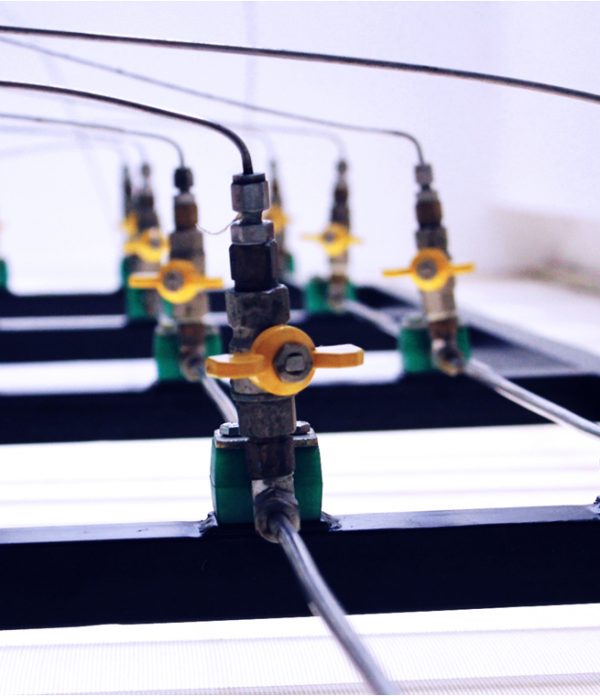 Mechanical Design
Tismo's mechanical design services range from concept design through detailed engineering, analysis, to prototyping. We specialize in end-to-end product design and new product development services for a variety of uses, like Medical devices, Consumer Devices, Handheld Products, Laboratory Equipment, Communication Devices, Outdoor Monitoring Devices and Instruments, Smart Plugs, Semiconductor Equipment, Pharmaceutical Test Equipment, Inspection Equipment, Weather and Environmental Simulators, etc. We also support product modification and improvements for current products and provide alternative design solutions.
We design products with the manufacturing process in mind. We create CAD models to ensure correct real-world fit. We incorporate GD&T practices on all our drawings and generate assembly drawings with complete BoMs.
Leverage our vast expertise in industrial design, product engineering, detailing, 3D CAD modeling, simulation and/ analysis, and prototype development. Our team is skilled at form design, material selection, tolerancing, ergonomics, manufacturability, serviceability, optimization and compliance support.
Our team has experience in evaluating and testing mechanical designs. We regularly carry out Finite Element Analysis (FEA) on designs to evaluate product design and minimize risks and prototyping trials. We analyze crucial areas of your product for stress, be it structural, thermal, flow, and fatigue, provide recommendations for redesign and support you through FE Analysis. Our analysis minimizes risk by revealing challenges such as temperature, air flow, stress, and moving parts that may impact your product at a later stage. Our FEA and CFD simulations help you reach crucial design decisions and allow you to move quickly into functional prototyping, physical testing, and volume production.
We also carry out flow and fill analysis on injection molded plastic parts and are able to solve problems like post-molding stresses, flow marks/ cracks, sink marks, etc. on the parts.
The Tismo team has experience in design for protecting sensitive components within products. We bank on early testing and our know-how in material selection to build strong, durable products that can survive mother nature, demanding users, and other accidents.
Product Engineering
Tismo's Product engineering expertise centers around the design of robust products. Designs are validated through a multidisciplinary product engineering framework optimized for design- for-manufacture (DFM), design-for-assembly (DFA), and design-for-reliability (DFR). Our design cycle comprises concept design and selection, preliminary design including material selection and sub-system design, and detailed design of modules, assemblies, geometric dimensioning, and design optimization. We help clients with the production and testing of prototypes.
Our expertise spans 3D modeling, detailing, simulation, analysis and prototype development. Our product development services are tailored to meet the specific needs and requirements of clients across the globe, and industry specific standards and regulations.
Our process involves:
Design of System / Subsystem / Component / Part
Engineering detailing – Layout optimization, Mounting arrangement
Design for manufacture/ Assembly/ servicing
Design for Safety and Regulatory requirements
3D Models in the required CAD format
Manufacturing Drawings Assembly drawings.
Conceptual and Industrial Design
Leverage our know-how in conceptual and industrial design to build products with improved usability, lowered production costs and enhanced aesthetics.
Our expertise is in designing products which maintain reliability and durability in its structure and functionality, while ensuring ease of production. This enables the products to have high quality standards and quantitatively reduce the cost of production. Our designs are created for manufacturability and assembly right from the conceptual stage.
Our process involves:
Data Collection – Customer Needs/ Expectations
Data Analysis – Feasibility study & comparison with Competitors
Thinking the Designer way – Usability and Ergonomics
Product Styling – Communication through 3D Visualization
Mockup model and prototyping
Prototyping & Design Validation
We use rapid prototyping methods to demonstrate products at different stages of development. We help you make better design decisions regarding user, function, manufacturability and cost.
We build appearance mock-up models and functional prototypes to gather feedback on refinement of the design. We use almost all types of prototyping like SLA/ SLS/ FDM/ polyjet, metal sintering, Metal Injection molding, machining, sheet metal, etc. Our team is also adept at product evaluation for standards like UL, IEC and NEMA
Value Engineering
Tismo's expertise in value engineering helps you reach an equilibrium between cost, quality and safety. We follow a systematic approach, aimed at achieving the desired functions of your product, process or system at minimum overall cost, without affecting the quality, reliability, performance, and safety. We focus on weight optimization through design studies, feature enhancement through functional analysis of products and sub-systems, and performance improvement by validating performance aspects and identifying improvement opportunities.
We also strive to adopt a modular design approach, to reduce complexity and increase component interchangeability. This reduces production errors and the need for component variety in manufacturing.
Reverse Engineering
To increase speed to market, our team can adopt reverse engineering approaches on existing, non-proprietary solutions. This unveils a wide variety of information pertaining to specific design challenges for legacy systems or for the design of complex products.
The process involves
Scanning/ Inspection of Part
Refinement of Data
Construction of Geometry
Detailed Drawing
Tolerancing for Fit & Function
3D Modelling/Drafting/Detailing
Our team is well versed in the usual CAD tools used in the industry. We can help you in shortening your product development cycles by providing 3D modeling and drafting services. We are capable of modeling complex geometries with ease. Our drafting capabilities include intuitive dimensioning and appropriate tolerancing, before which we spend enough time to understand the functional/ application context of the parts and their fit with the mating parts, while we moderate these with the limitations of the processes the parts are required to be manufactured in. We provide drafting services for all kind of components – Plastic injection parts, metal castings, sheet metal parts, machined metal parts or plastic parts, labeling, etc.
Services
Industrial design/ Conceptualization
Product Engineering and Development
Design for Manufacture / Assembly/ Service (DFM/ DFA/ DFS)
CAE: Structural, Thermal, Fatigue Life Analysis and Design Optimization
Flow and fill analysis for plastics
Value Engineering
Reverse Engineering
3D Modeling / Drafting / Detailing
Prototyping and Design Validation
Tools and Technologies
SOLIDWORKS
PTC Creo
Autodesk Inventor
AutoCAD
Ansys