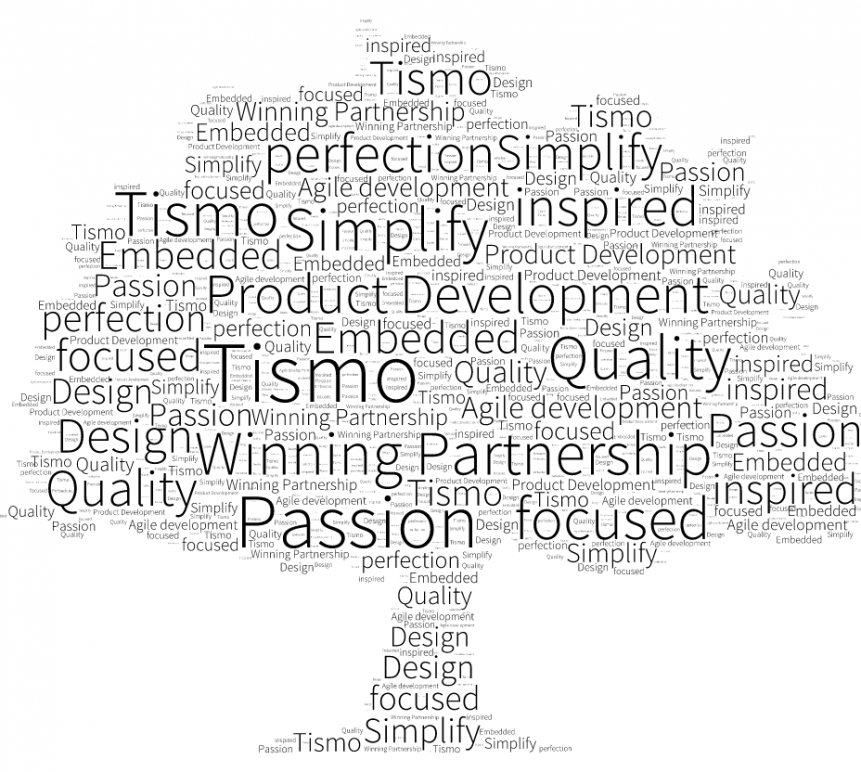 Who We Are
Tismo Technology is a design engineering firm that offers Product Realization Services, specialized in embedded systems design & development. We offer Software development, Firmware development, Electronics design and Mechanical design for Analytical & Medical Instruments, Industrial and Internet-Of-Things products. The products we develop highlight our technological proficiency, domain prowess and passion for excellence.
Tismo came into being when a set of professionals, with a shared sense of purpose, set out to create something special. This mission, passion for technology, and the spirit of ownership have led to an organizational culture that delivers exceptional results for clients.
We deliver knowledge that helps clients excel, innovate, and push the boundaries of technology. Over the years, we have worked on more than 430 projects for clients spanning 15 countries. With a team of about 80 members and catering almost exclusively to the European and North American markets, this is our 15th year of operation.
We are results-driven and our project and quality management tools, methodologies, and frameworks are designed to consistently enhance performance benefits, reduce risk, and provide predictable results to clients.
At Tismo, we believe in the power of ideas and the irrepressible nature of the human potential. A tiny acorn of an idea can be nurtured into a game-changing product, leaving a strong and enduring legacy, much like the mighty oak. Our name, Tismo (Tiny Seed, Mighty Oak) reflects our zest to transform an idea into a world-class product.
Where We Are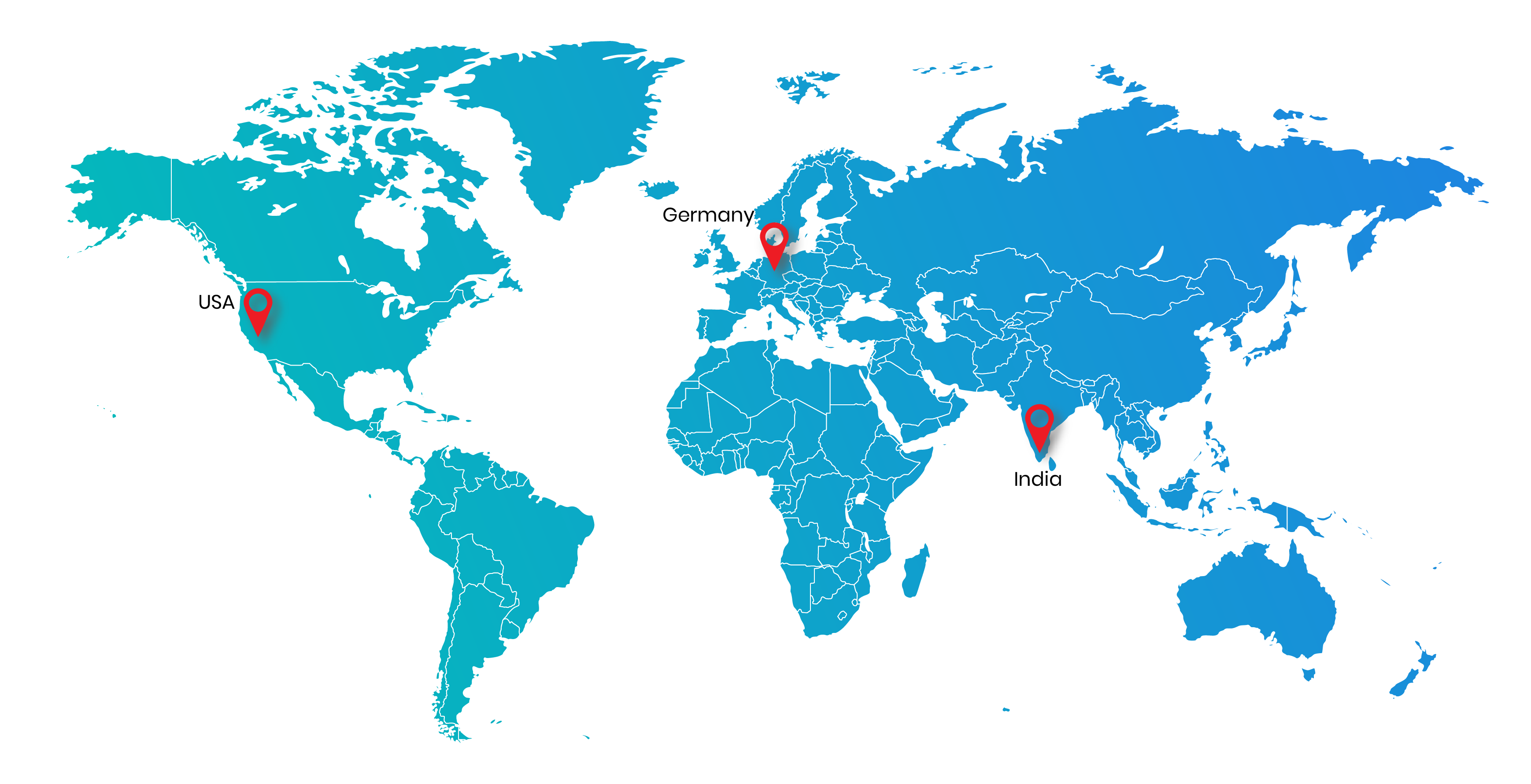 Testimonials
"Tismo's professionalism is hugely impressive. Their attention to detail, ability to extrapolate bare requirements and perseverance to deliver a final product is outstanding."
— Test & Measurement Company, Germany
"It is very easy to communicate with Tismo. They are always willing to schedule a time to have a conversation and was always responsive and prompt. They were generous with their time and resources to make requested modifications and fixes to the project."
— Medical Device Manufacturer, USA
"A professional and talented team delivered the software package to the exact specification. Friendly organization, always on-hand to assist during specification clarification and stage testing, an organization whom I will be using for the next project."
— IoT Products Manufacturer, USA
Certifications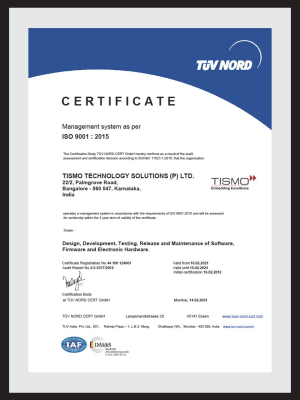 ISO 9001:2015
ISO 13485:2016
Quality Policy
---
"We deliver excellence to our customers, by providing high quality engineering services on schedule and at competitive costs by continuous improvement and effective maintenance of the quality management system."
Process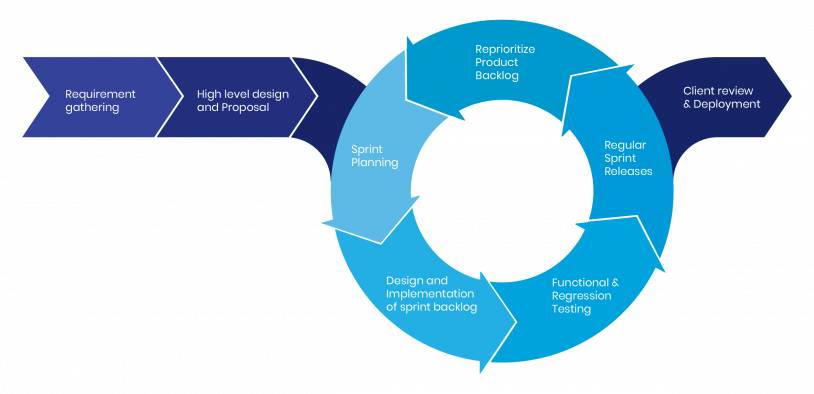 Tismo has a proven global delivery model based on strong project management practices. We ensure high-quality deliverables on budget and on schedule. Our metrics-driven processes based on Agile methodology and state-of-the-art development tools result in robust project deliverables.
We have long-running Off-shore-Development centers for customers, including a total of 21 ODCs. We can provide on-site consultancy or adopt a hybrid model that involves onsite and offshore support. We ensure clear, frequent communication so as to provide good visibility into the project at all times. We train the engineering teams of our clients, alongside the development so that the end-of-project transitioning is smooth. 
All intellectual property, including circuit schematics, BOM, layout, prototypes, source code, requirements document, design document, test cases and reports belongs to our clients. We strive to ensure that teams do not overlap except at the management level. Access to the project details is restricted to a select few and is controlled by systems and processes.
Contact Us
engineering@tismotech.com
India         : +91 80 4091 3741
USA          : +1 408 786 5648
Germany  : +49 697 912 9840