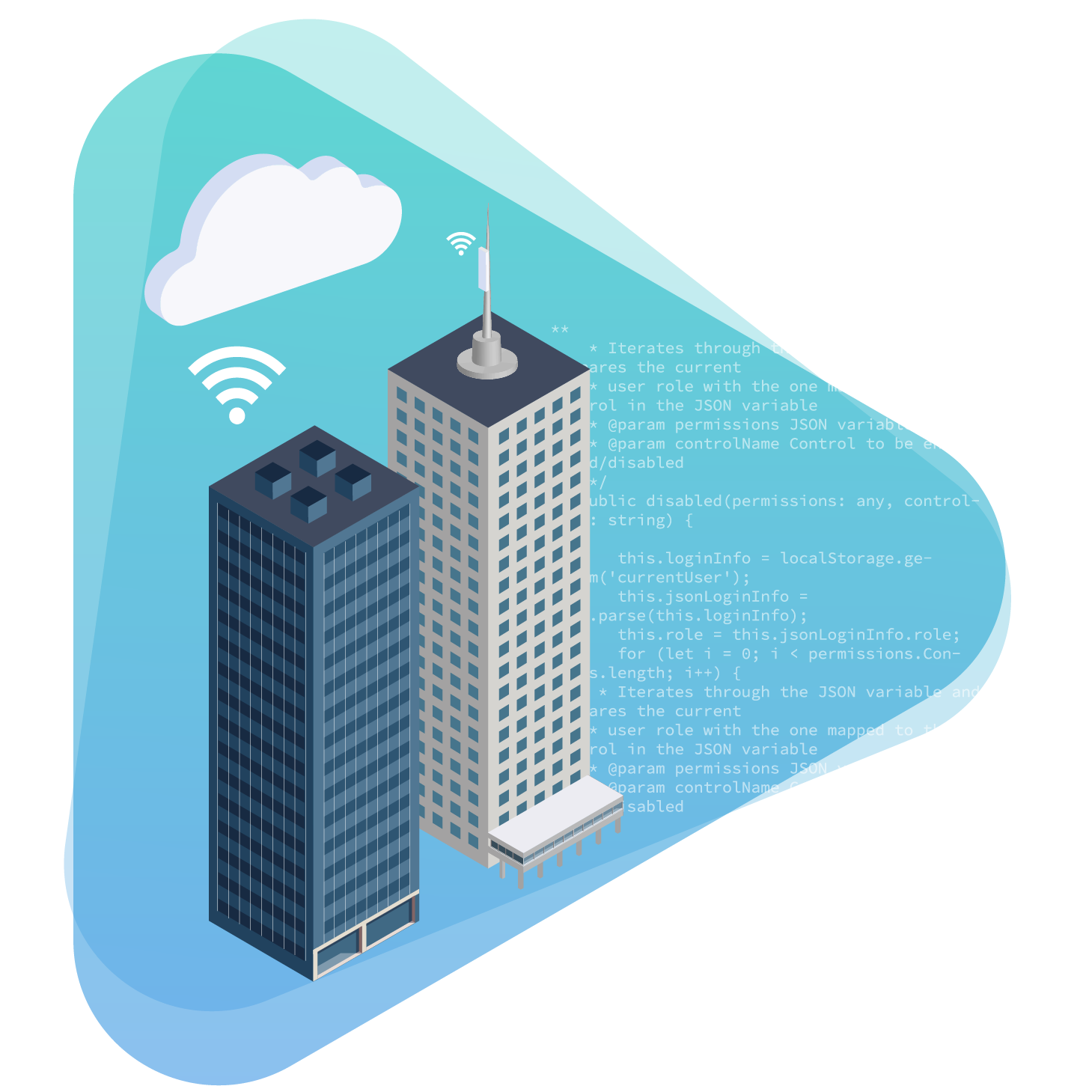 Intelligent Buildings
Tismo has expertise in designing and developing centralized, automated and intelligent platforms to simplify the management of geographically dispersed buildings. We have rich experience in developing solutions for smart buildings that combine mobility, cloud and IoT to enhance decision-making, leading to predictive maintenance and smarter infrastructure utilization.
Our team is adept at developing frameworks that combine the management of multiple equipment, third-party systems like access control and IT systems. We have developed and deployed security and surveillance solutions that include live video surveillance and remote security features. We have developed platforms that harness real-time data to help facility managers make informed decisions to increase efficiency and reduce maintenance cost. Our expertise encompasses edge analytics, smart energy management, intelligent lighting, remote monitoring of HVAC systems, intelligent sensors, data analytics and enabling predictive maintenance.
Services
Design and development of HVAC Controls & Building Management Systems
Development and deployment of Integrated Security Systems
Smart indoor and outdoor lighting controls
Smart Energy management – Cloud based monitoring, solar power generation monitoring etc
Smart Sensors – Occupancy, Door Opening, Temperature, Humidity, CO2, Accelerometer, Pulse Counters, Water Meter, Smoke Sensor etc 
Dashboard, Reports, Analytics, Open API
Indoor Air Quality Monitoring
Technologies
Short-range Wireless:  ZigBee, BLE,  IEEE 802.15.4 MAC/PHY, Wi-Fi, 6LoWPAN
Long-range wireless: LoRa, LTE IoT CAT-M1/NB-IoT, 4G/5G
Wired Communication: G3-PLC, DALI, OPC/UA, BACNet, IEC 61850, DMX, CANbus
IoT Protocols: MQTT, CoAP, AMQP
Data presentation: Mobile and web applications, Web HMI, etc.